Wednesday, July 26th:
I meet Teresa at 9 AM – a little later today as we have a shorter (albeit uphill!) day today at Little Dipper and we wave farewell to Frauke.
As we are in kind of a cruisy mode today, we opt to stop in Beaverdell and grab a coffee – you've just got to check out the Red Rock Garage. (and don't be put off by the motorcycle look – they welcome all kinds of bikers!) Homemade banana bread, one latte and one Tiger Chai Latte to go – awesome! just stop there if you are headed through Beaverdell – great place!
(ps. any tips go to the BC Children's hospital and Lisa the owner matches them – did I say already? great place!)
Onward ho – back up to Arlington we go! a different morning up there – amazing how it changes – there is a good stiff breeze stirring up the lake – yes, it's a headwind on our uphill day! ah well – such is life on a bike!
Teresa and I are away – the air is cool, not at chilly as yesterday, but the headwind actually works in our favour today – it is a cool breeze all the way.
Within minutes a couple pass us moving along at a good pace carrying panniers – they look too happy to stop so we all wave say good morning and carry on.
We make it all of about 3 kilometres before the first photo stop – a stunning view out over the valley – not far away further north lies Big White – the local ski area – now also open during the summer months with a massive mountain bike range.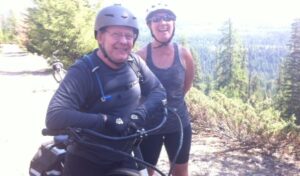 Just as we are about to set off – hey! there's someone coming downhill towards us. It's another lone wolf! Nice bike I say as he comes to a halt – cruiser style, raised handlebars – and then he revs the "throttle" – ha! pedal assist he grins. Gordy ("Gord with a y") shows us the scar of his recently replaced knee (10 months ago) and says while it's doing great he would be hard pressed to ride without pedal assist.
We discuss the "e-bike" protocol – he even called up Trails BC to ask their advice on using a pedal assist on the trail – I'm really liking Gordy (Gord with a y) now! And he has biked all over BC.  Using his van as a base he does out and back rides either way on the trail, basing himself in one area for about 3 days at a time. What a way to go!
We all engage in a conversation on how to inform cyclists of the conditions on the trail on a timely, up to date basis. I put my hand up suggesting I form a KVR Facebook Group – watch for it! (probably apres blog – all this cycling and blogging is keeping me a bit preoccupied just now).
After an entertaining chat, off we go in either direction – he whizzing away downhill as we take the somewhat more sedate uphill into the wind sans pedal assist way!
Just as I was wondering if we might run into our family from yesterday along the way – here they are! looking just about as content as any family of cyclists can look laid up underneath a canopy of trees on a soft mossy patch with snacks.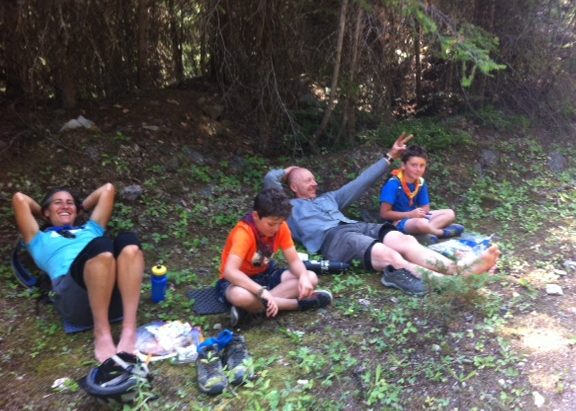 They exclaim just how incredibly friendly Canadians are and how wonderful everyone has been along the trail. He's originally from Tennessee and talks about how friendly folk are down there as well – "when they ask how you are doing down there…they really want to know how you are". I like that – Tennessee may have to go on the "to visit" list one day!
We get to Wolfe Creek – now why do I not have a photo of that sign?! oops! but we are incredibly impressed with the bypass route that Trails to the Boundary Society put through around a massive washout from the spring. You can now cycle through on the trail as the water has receded leaving a large puddle on one side but just a bit of mud on the other. Huge thanks to this predominantly volunteer society.
Trails to the Boundary are the main group looking after the trail here, cutting fallen trees, clearing the way and putting in bypass routes such as this! Please support them and Trails BC – they are the best resources we have as cyclists.
Unfortunately, and I am going to just mention this briefly as it comes up in all conversations with others and ourselves for much of the ride today – the government body – BC Recreation Sites & Trails – responsible for this trail have not really lifted so much as a finger for the trail here citing lack of funding from their Ministry. The washouts and erosion reported in the late spring are left – not only from this season but from many years past. Thompson Okanagan Tourism Association, fortunately, also recognizes the great value this trail has for the province – not just for local tourism, but for health benefits for locals, and visitors from across the country and around the world. Watch this space and hopefully we can report back with some positive changes in the near future.
Meantime! we do our bit! I am feeling a bit guilty as we pass downed trees and finally I stop and say, Teresa, we've just got to do this and we set to clearing a pile of fallen trees – just making it a little easier for whoever may be coming up behind us.
We then kind of "put the pedal to the metal" and get into a good steady pace and really make tracks up the trail – we see a large doe poke her nose out of the trees, a mouse cross the trail (I missed it – "Teresa I'm looking for a moose not a mouse!" ha ha!!)
The pace takes us around long curving bends, cool wind in our faces, the valley dropping far below us on the right – so much so that we sometimes call out "left lane"! For those who are height wary it seems a good plan especially whizzing over the rocky areas!
Finally, I mention that perhaps my substantial breakfast might be long gone and Teresa agrees – time to find our patch under the trees and have a snack.
Then just a few more kilometres and we reach the Okanagan 201 Forestry Road. This is what I call the "highway of forestry roads" crossing the trail. And, despite our steady uphill climb, we've got a ways to go, as our destination lies roughly 4 kilometres uphill off the trail. Well, might as well get on with it! and away we go!
It actually finishes with a lovely sweeping downhill and then we turn off towards Idabel Lake on smooth downhill pavement – all the way there.
Teresa gets settled into her cabin here for the night while we (and I have the most amazing silent partner in all this) whiz around getting dinner organized for Teresa and the rest of the pack arriving later today.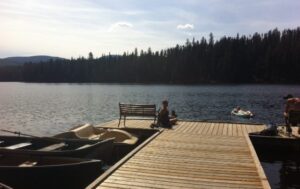 All set, I join Teresa on the dock and go for a quick refreshing dip and we are away again – see you in the morning for the Big Ride!
We set off heading back towards Rock Creek for the evening, but along the way pass the rest of the "pack", Stephannie, Jake & Kathy just making there way up the "201" heading towards their cabin and to meet up with Teresa. Let me introduce you to them tomorrow – and wish us luck! we are riding nearly a good long ways  on the trail (unless we decide to bail out along the way – we are leaving that option open just in case!).
Tomorrow we face many miles and the forecast is for hot conditions, but for now! Another very fine day on the KVR!