Thursday, July 26:
How to describe how that swim felt yesterday, or how delicious that Real Things pizza and Cannery Brewery beer tasted yesterday about 8 PM – and not much longer after that I tumbled into a blissful sleep.
Another of those amazing things about challenging yourself is the absolute divine sleep it brings…
But another dawns and another ride to ride! Loaded up with fruit salad for breakfast – the Okanagan is just so abundant with incredible produce and veggies – many thanks to my incredible sister for keeping us well stocked in organic cherries, apricots and even early peaches…divine again!
And just before we get started on the ride today, I want to share a few of my favorite places and "to do's" in Naramata – just a few so you can discover the rest at your leisure or on a self-guided tour with us!
And of course, this is where you can find out more about what we do and offer. You may see the general offerings are a bit different than this little adventure has been, but essentially it is the same route – KVR Self-Guided Cycle Tours.
We also offer custom tours and dates and are already taking inquiries for 2019. I know it seems a long ways off! but first come best rooms are yours! (and please, do read on to the end if this blog has intrigued you to come and ride).
Following are just a few of our favourite Naramata places that we have not mentioned through this blog but are some of the businesses that either help us out in various ways or that we recommend on our tours.
Seasons are short here in the Okanagan (such is Canadian summers even in paradise!) and we do our best to help out the local businesses.
Now ON WITH THE RIDE!
We swing around to Sandy Beach Resort and it's like a full fledged pack reunion…wolves do this in the wild when they have been separated and apparently it's rubbed off on us…so it's all laughter and frivolity in the reception area…pity anyone trying to edge their way in the front door….!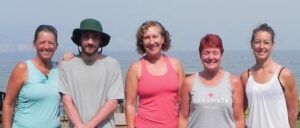 Yesterdays heat and exhaustion, dust, sand and bumps a thing of the past and now only a ride to be celebrated – once again – amazing what food and sleep does for the soul!
Then once again Teresa and I are away – whisked up to the trail (as really…who wants to start a journey called "loping southward" with a 5 kilometre uphill climb first thing in the morning?! and yes, we include this shuttle in our tours).
There is a little smokey haze in the sky, but despite that, the air smells clear and it's not hot yet.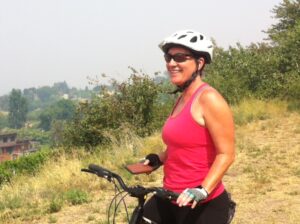 At Arawana Station bikes are whizzing both up and downhill and we join in the downhill sector.
Teresa! no bumps today, maybe a little sand? but no bumps and all either downhill or flat – AROOO!
Whizzing above vineyards we soon sweep down into wine country. The Naramata Bench is positively littered with boutique, heritage and family vineyards, patios and bistros, artisans and orchards.
The Trail Store is next up and not only offers fresh fruit (like right off the tree) smoothies, they also have baskets of fruit for sale.
We pause briefly at another popular namesake of the trail – the McCulloch Trestle and look out to the Okanagan Lake before again stopping to photograph my favorite fruit trees. I am not sure the history or ownership behind these beauties, but every year they capture my attention and imagination – beautiful old apricot trees.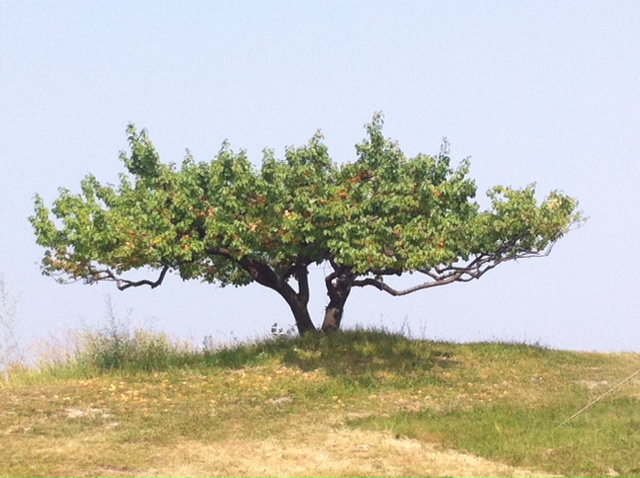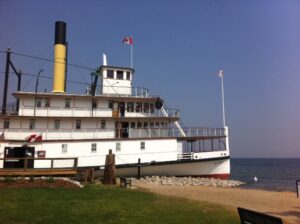 Penticton comes up before us and we head downhill to Lakeshore along the north end of the city. Instead of following the original KVR through the city we take the scenic beach strip to the west side of town and the historic SS Sicamous – the paddlewheel on the beach.
This is the busy tourist spot of Penticton – with it's white sandy beaches and incredible summer climate, it has been attracting Canadians from cooler climates for many decades.
Now of course I just have to have to have to! recommend Ooh La La Creperie. We have known Carole for some years and her traditional French crepes are absolutely amazing – right next to the boat! I stop by to say a quick hello and am rewarded with her infectious grin – I'll be back Carole!
Then through the rose garden – how beautiful even my IPhone 4 can't take away from these peach coloured beauties!
Across the dam we head with water plunging southwards from the Okanagan Lake to Skaha Lake via the Penticton Canal which we follow to the south end of the city (along with all the "floaties bobbing along on their various plastic barges and boats!).
The Southern Spur Route as this is called was instigated by the railway to bring fresh produce and veggies to the main KVR line during World War II to be shipped overseas. It originally went right to Osoyoos, but is a bit broken up in places now and we plan to head as far as Okanagan Falls – not far to go!
This part of the trail is like being transported to another landscape – the hillsides laden with sage and the clear lake waters rippling gently alongside us.  It's very peaceful here.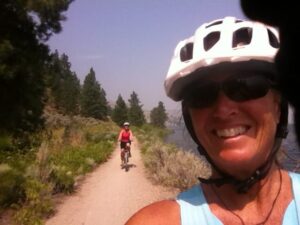 We reach Kaleden, a little town right along the lakeshore. We stop at the old Kaleden Hotel – a concrete building withstanding the passage of time with barely a wrinkle in its structure, but with no roof or windows it now seems more like a piece of art than a building, especially with the vines and the views of the lake you can see through the windows as though perfectly framed paintings.
Teresa, a keen photographer, gives me a tip on lighting and composition. Somehow the IPhone 4 doesn't seem to be cutting it….remember how small the screens are? must simply lie down on the grass to get in what I can….this, and our bikes strewn about and Teresa taking (proper) photos may have intrigued a family passing by as they pull up – bikes on the back of the car and, well, of course! we strike up a conversation.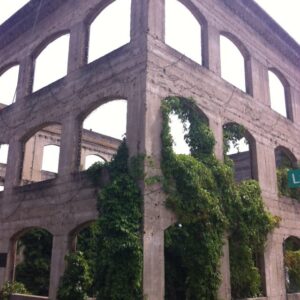 Perhaps it is because we are in the final throes of our travels, but I think we will let this family go without talking of blogs and tours and what we are up to…but life sometimes makes up its own mind…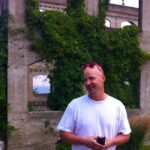 So, he is a photographer (real one) and Teresa recognizes the name and they get talking. He is from Nanaimo (she is in Victoria), he talks of how wonderful it would be to have photography tours on the KVR, astral photography (starry skies) and okay already! I have to chip in….mostly as this September I had planned with a very good friend from New Zealand to develop a photography tour— not necessarily anything to do with biking, but was possibly going to include Vancouver Island – which we all now get excited about and well "A b0y and his dog" now just became a part of this blog.  Do check out his amazing photos!
Teresa and I just shrug and figure well! it's quite amazing who we have met along the way and perhaps it is appropriate that we finish on a note of promise of exciting ventures to come in the future…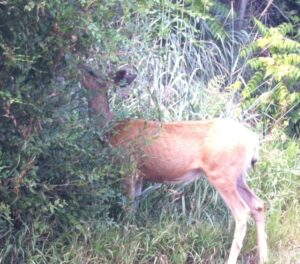 Off we all go again, we are now into the final few kilometres of our journey and maybe that's why I keep stopping for just one more photo and can't resist the doe who barely blinks and keeps her position at her luncheon spot as I try not to disturb her (and she just completely ignores me!).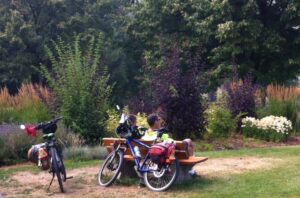 The final trestle bridge takes us over the tail end of Skaha Lake. We coast through the Lion's Park in Okanagan Falls and I spy two cyclists relaxing and perhaps adding to their own blog?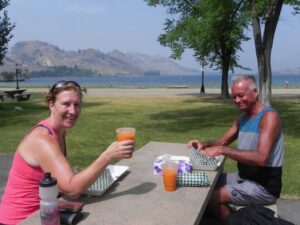 We are finally here and met by Swade with treats – veggie wraps and fresh pressed juice from the "Angry Vegan" in Penticton and delivered to this relaxing picnic spot along the lake.
We watch another group of cyclists cruise by and I wonder at what point they are on their journey?
Ours is complete, although in some ways, perhaps it is just beginning.
My next inspiration from all of this is to offer the "Lone Wolf Tour 2019″. If you are, or know of, women who want to ride but not alone, are looking for a moderate to moderately challenging ride over 4-6 days, please email me with your interest in the Lone Wolf 2019 or pass this along to a friend. It's still in the "works" but let us know if "you're in".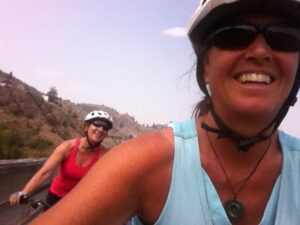 Thanks to everyone who stopped to chat along the way, to all our amazing accommodation providers, caterers, shuttle providers, mechanics and bike shops, volunteer groups and non-profit societies, and to TOTA for your belief and recognition of this great heritage trail and to all who work so very hard to live their dream and help us do the same. I hope to help you live yours for a few fine days on the KVR soon too!
And special thanks to "Sally" (see Day 1) aka Teresa for her great company and her zest for the cycling life and just taking it all as it came along in great spirits! the good, the bad and the somewhat crazy! What a great ride!
Oh, and just look at what I found to go with dinner tonight….sublime. Another fine day on the KVR!