KVR Cycle Tours – Cycling the KVR – Lone Wolves Day 1
She called during a busy spell, when I had about 5 different groups out on the KVR- all in different areas at once. It's a bit of a juggling act some mornings – texting to remind of shuttle times, weather forecast, obstacles to be encountered along the way, delivering luggage, booking shuttles, making dinner reservations and then double and triple checking all the little details to make sure everyone has a smoothly running self-guided bike tour!
She wanted to cycle during the one week I had off. And she was alone. But didn't want to be.
What to do.
I cycle alone a lot and know a lot of women who do. But don't necessarily want to. I thought of others who had mentioned wanting to cycle on the KVR this summer. But they were alone, and didn't want to be.
What to do.
Scrap the week off. Plan a trip (after all, it's what I do) Gather the lone wolves and go biking. What else?!
A few considerations. It is the 3rd week in July in Canada – some of these people, myself included, are tour operators or accommodation providers – and it's July. But sometimes a girl's gotta do what a girl's gotta do – and these girls are going biking!
So here we are on Day 1. On my way to meet "Sally". I'm calling her Sally for now as I don't know yet if she wants to be in this "blog" or not? so today, she is Sally.
And my name is Paula (my real name) and I run KVR Cycle Tours. Why we had a quiet week the third week in July is still a bit of a mystery, but I am blaming it on the floods and dire predictions back from April and May, which is typically when I would be filing up the rest of our time slots.
Now, although it's been a beautiful cooler, damper summer than normal for this arid region of British Columbia, we had a more typical spell of 38 degrees last week. Unfortunately that brought on a brief but devastating thunderstorm in the Okanagan Valley that sparked a number of wildfires. They are still burning, but over here at the start of the Kettle Valley Rail Trail – that would be Midway, BC – it's clear as a bell, not a whiff of smoke in the air and a stunningly gorgeous morning.
"Sally" arrived last night and overnighted at Road 6 B&B in Oliver. I'm on my way and coming over "the hill" dropping down into the Okanagan. Media reports might suggest it would be a smoke filled valley….there's a faint haze but it's….a beautiful sunny day – there's Osoyoos down below.
Gudrun & Jim are the owners of Road 6 B&B – it's a place we have used often for guests heading further south on the Southern Spur Route of the KVR. This line was added on during World War II to enable fruits and produce to be shipped for the war efforts.
We'll be back here at the end of our journey – 5 days along the KVR.
We are not starting right at Mile 0 today, but instead at Rock Creek, at about kilometre 18. After getting Sally set up on her bike, we will meander our way following the Kettle River to the west Kettle River. I'll let you know how it goes!
Day 1 complete and I continue this post apres swim – whatever you do, if you cycle the KVR in the summer, with us, on your own or however you do it, plan on going swimming – especially biking in July!
So "Sally" is really Teresa and happy to be Teresa so we got that settled pretty quick! She was set and ready to go from Road 6 after a massive "Gudrun" breakfast fit to feed a small army and off we went to Rock Creek. Picked up a sandwich (loaded – they are huge! my fave is egg salad on rye) at the Rock Creek Trading Post (where you can very often find us if you are looking!) then set off to run through a route review across the river on and right on the KVR at Bernie & Alison's Rock Creek
Station Store.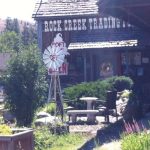 Our custom designed KVR maps are available at her little store as well – in fact they have everything and anything you could possibly need there and have camps sites, laundry, wifi and showers.
And then off we went!! whoohoo! by this time its about noon and about 30 degrees and climbing….
Our first stop comes up pretty quick at just 6 km's up the trail and it's time for that sandwich – best little lunch stop going at the Kettle River Recreation Area and campground – swimming holes galore – was a very fine first stop.
Off we go again. This area, from Rock Creek to Westbridge had a massive wildfire sweep through in 2015 – it's effects then were shocking and devasting. Today, many have rebuilt homes and lives along the way, including us! and the stark contrast of the burnt trees amongst the fields of wildflowers is dramatic and beautiful.
At Westbridge you cross Hwy 33 and leave the Kettle River to follow the West Kettle River – don't forget to sign in here! Please! it really helps our volunteer societies manage the trail and advocate for more services – you can also contact them directly for information Trails to the Boundary Society.
We met a family (from Germany?) also cycling in our direction but heading on further to Beaverdell and staying at the rustic, but sweet little old Highland Cabins.
Next stop was at Paul Lautard's replica caboose – this is a fabulous little shelter from sun or rain – sign in anywhere!
And then the final 5 kilometres to Little Dipper B&B – Teresa's home for tonight and met host Frauke Delisle who is going to join us on Day 2 of the KVR Lone Wolves adventure!